DOCTOR:
Gosberton Medical Centre, Lowgate, Gosberton, PE11 4NL. Telephone 01775 840204 www.gosbertonmedicalcentre.co.uk
DENTIST:
Fen House Dental Practice, 42 High Street, Gosberton PE11 4NJ. Telephone 0844 576 9635

GOOD NEIGHBOUR SCHEME:
The Good Neighbour Scheme exists as a means of allowing locals to help other locals where a simple need arises. Users of the scheme REALLY value what we do, and whilst the number of people using the scheme has steadily grown our Volunteer group has remained static so we're on a mission to encourage as many people as possible to join our merry band.
If you've got just a little spare time and could be a Volunteer here are some great reasons to do it:
It is HUGELY flexible: we only undertake a task when a User requests it and if the Volunteer is busy doing something else or doesn't want to do it, no problem, we simply go to the next Volunteer who might be free – No fuss, no guilt.

Because demand ebbs and flows, some Volunteers do a task a week and some do one every six months – again, ULTIMATE flexibility with no impact on daily life.

Some tasks are so small that they take literally five minutes, e.g. dropping off a prescription or changing a light bulb.

No one's left out of pocket: if you give a lift your mileage is reimbursed at 45p per mile.

You get to meet other locals, make a difference and feel good.
At present we really need additional Drivers and Call Handlers to join the Team:
Drivers use their own car to give lifts with the User paying them 45p for each mile completed.

Call Handler's work in weekly rotation with other Call Handlers to man the Scheme phone, taking calls from Users and allocating tasks to Volunteers (NB. if the Call Handler isn't free the caller can leave a message to be dealt with later).
If you can help out or wish to use the service, we'd love to hear from you:
Call: 07808 326511
Email: gosbertonandquadringgns@gmail.com
Website: www.gqgn.org.uk
GRANTS AVAILABLE FOR YOUNG PEOPLE: See our page called 'Local charities'
LIBRARIES:
25 High Street, Donington PE11 4TA

Boston & South Holland Mobile Library visits every two weeks:
For details of the next date the mobile library will visit, please phone 01522 782010 or click on this link: https://www.lincolnshire.gov.uk/libraries-archives/lincolnshire-library-service
PARISH COUNCILS:
Gosberton, Clough & Risegate: Clerk is Frances Newton 07958 318616
Quadring: Clerk is Mr M Stacey. Telephone 01775 820049
POST OFFICES:
Gosberton Post Office: 54 High Street, Gosberton PE11 4NG
Telephone 01775 840963
Quadring Post Office: 105 Main Road, Quadring PE11 4PW
Telephone 01775 821108
Gosberton Clough Post Office and small shop at Gosberton Clough Church Hall
Thursdays from 2pm to 4pm. Parking available
SAGA HOMECARE:
To find out how Saga can support you in providing care in your home, please call on the
phone number below or visit our website and quote the code DD8205:
0800 1105 164 www.sagahomecare.co.uk
LOCAL SCHOOLS:
GOSBERTON ACADEMY - https://www.gosbertonacademy.net/
Headteacher: Mr Tom Baxter, email (tom.baxter@gosbertonacademy.net)
High Street
Gosberton
Spalding
PE11 4NW
Tel: 01775 840414
........................................................................................................................................
GOSBERTON HOUSE ACADEMY - http://www.gosberton-house.lincs.sch.uk/
Headteacher: Katharine Saywell
11 Westhorpe Road
Gosberton
Spalding
PE11 4EW
Tel:01775 840250
Email: enquiries(AT - use the usual symbol)gosberton-house.lincs.sch.uk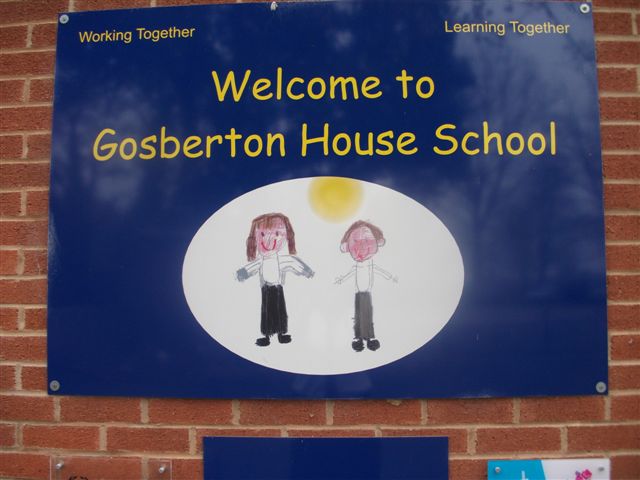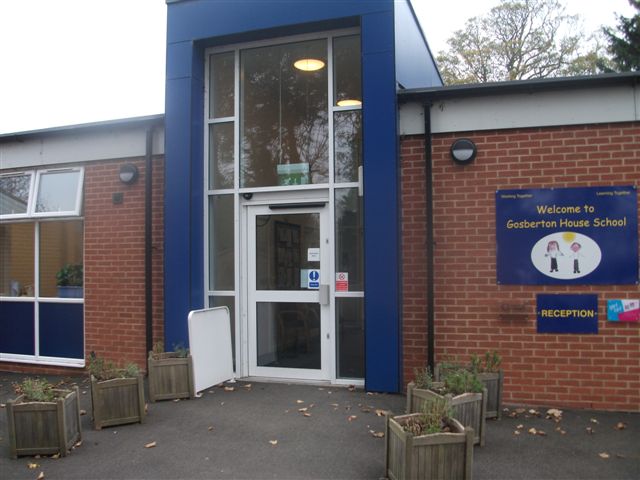 Gosberton House School is a specialist primary school mainly for children with an Autistic Spectrum Disorders. A small number of places are taken by pupils with Sensory Needs or Moderate Learning Difficulties. Assessment places are available throughout the school for children whose educational needs are yet to be determined. The school provides a primary education for children with a range of specialist needs including learning, communication, sensory and social.
We are a friendly, hard working school which places each unique child at the very centre of our community.
Whether you are a parent, carer, relative or colleague, you are welcome to look around our school.
........................................................................................................................................
GOSBERTON CLOUGH PRIMARY SCHOOL - http://www.clough-risegate.lincs.sch.uk/
Clough and Risegate Community Primary School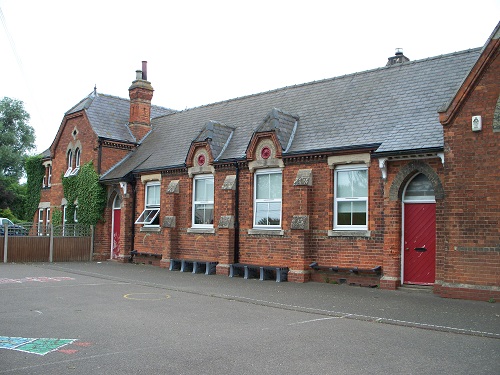 Chopdike Drove
Gosberton Clough
Spalding
Lincolnshire
PE11 4JP
Telephone and Fax:
01775 750297
email : enquiries(AT - use the usual symbol)clough-risegate.lincs.sch.uk

....................................................................................................................
QUADRING COWLEY & BROWNS PRIMARY SCHOOL - http://www.quadringcowleybrowns.lincs.sch.uk/
Headteacher: Jeanette Jamieson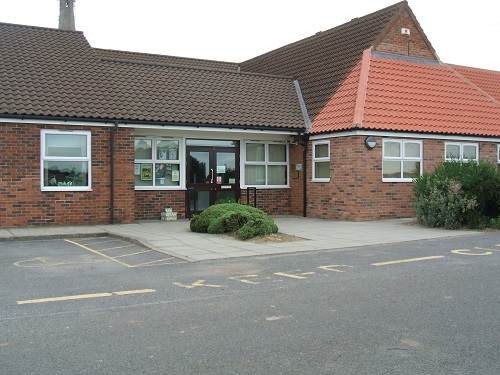 Quadring Cowley & Brown's Primary School
Church End
Spalding
PE11 4SQ
Email: jeanette.jamieson(AT - use the usual symbol)quadringcowleybrowns.lincs.sch.uk
Telephone: 01775 820302
........................................................................................................................................
SOUTH HOLLAND DISTRICT COUNCIL:
Council Offices, Priory Road, Spalding PE11 2XE Telephone: 01775 761161
email: info(AT - use the usual symbol)sholland.gov.uk
Offices open Mon to Fri:
Mon: 8.30am - 5.15pm
Tue: 8.30am - 5.15pm
Wed: 9.00am - 5.15pm
Thu: 8.30am - 5.15pm
Fri: 8.30am - 4.45pm
SHDC Lifeline Service: see below for details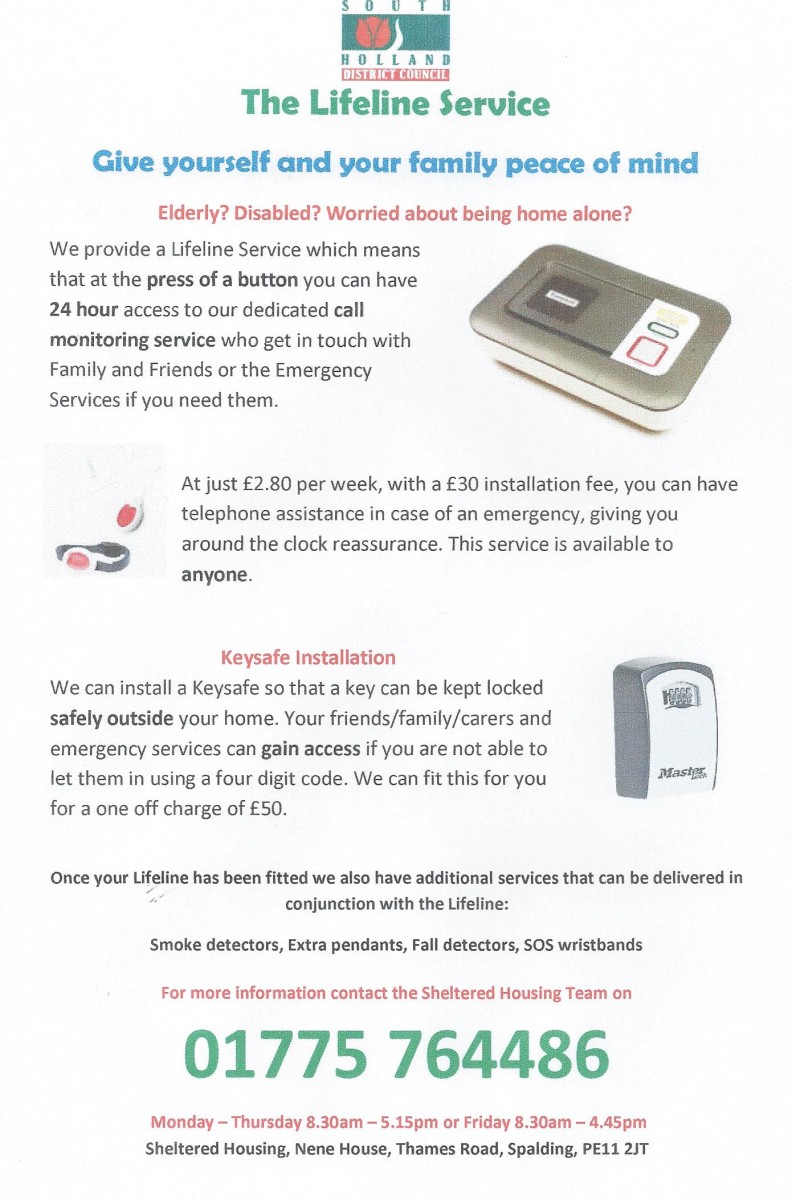 SAFE FAMILIES FOR CHILDREN NEEDS YOU!
Join our army of volunteers today!
Safe Families for Children is a movement of the church to care for some of the most vulnerable members of our society - children whose parents are going through a hard time. We recruit Host Families who voluntarily open up their homes, without pay, taking in the children for a short spell whilst their parents get back on their feet. It's not fostering and it's not adoption - just simple kindness and yet it can make a world of difference.
For full details please click here to read and print the leaflet.
HELEN'S INDEPENDENCE ASSISTANCE
At aged 22 most people are busy getting on with life and not thinking about their later years. I was an exception, my experiences in life have brought me to consider how I will cope when I am old or become disabled. After serving 17 years in the police force helping the community on the beat, 3 years in brain injury rehabilitation, years of private end of life care and working for 4 years for the GP out of hours home visiting service, not to mention being a funeral director, has certainly made me consider my later years.
I can see the huge gap in available care for people who still want to remain independent in their own home. Care companies are very good but limited to their roll. They do not take someone shopping, help to access the community or help you get to appointments or assist you to have any form of a social life or trips and holidays away. They do not help with loneliness or support with lack of confidence after the loss of a loved one or help to plan or contact people on your behalf if you need a plumber, electrician etc. They do not access the internet for you to book tickets for a show and find the best deals for you, or give you someone to call on should you need adhoc help if you are unwell.
I decided to plug that gap and I have started Helen's Independent Assistance, based in Quadring and covering Boston, Spalding, Holbeach and everything in between. You no longer need to wait for someone else to be free to help you or bother busy family, friends or neighbours. You can be Independent in your own home and live a full and happy life.
Helen's Independence Assistance is a caring, helpful, one to one service for the elderly or persons living with disability. Providing practical help to maintain independence in your own home. Advocate for combating loneliness and preventing the need to disrupt the lives of others to maintain an independent, full and happy life.
¨ Help to access the community at any time
¨ Help walking the dog or looking after pets
¨ Assistance getting to and from appointments
¨ Help with shopping or shop on your behalf
¨ Bespoke assistance to your personal needs
¨ Assistance with accessing social events, activities or interests
¨ Combat loneliness with regular company, tea & chat or a trip out
¨ Assistance to go away on a long or short break
¨ Practical assistance running a home, paying bills, errands, phone calls, help to access the internet or plan arrangements on your behalf.
I have a lovely specious car with room for a folding wheelchair or walking aids (individuals must be able to self-transfer, support available, lifting not permitted)
Only £15 per hour (Make 50% savings with Helen's Loyalty card)
Fully Insured, DBS cleared (Police checked). Years of experience, qualified in Care, Safeguarding Adults & Children, Infection Prevention & Control and Basic Life Support for your peace of mind.
Contact Helen: 07973 43 77 99